The Power of American Workers
---
First unveiled while President Joe Biden was still on the campaign trail, his "Build Back Better" infrastructure plan aims to help tackle unemployment and climate change. The plan calls for $2 trillion in spending over four years with investments in infrastructure, manufacturing, innovation, research and development, and clean energy, as well as training for displaced workers. The plan's ambitious goals are to produce more and better-paying jobs to get the economy back on track, all while tackling the country's older infrastructure and the global climate crisis.1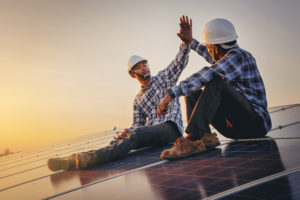 Curing the world of COVID-19 is not the panacea that will heal our nation's economic woes; our problems go back further than that. The globalization of manufacturing jobs was spurred in part in 1994 by the NAFTA agreement between the U.S., Canada and Mexico. While designed to eliminate trade barriers by reducing tariffs on imports and exports between the countries, many manufacturers found they could also enhance profit margins by taking advantage of cheaper labor in other countries. The U.S. saw a subsequent 30% drop in manufacturing jobs between 1993 and 2016.2
Biden's new investment plan could help restore some U.S. manufacturing. Similar to the former administration's plan for reducing taxes, the goal is to boost GDP and, in turn, help pay for the outlay of funds.
It is difficult to predict the success of a new administration's plans, but they do offer clues as to industries that may benefit from the focus of government funding efforts. However, your financial plan should be designed to reflect your goals, regardless of the current political environment. Make sure you have a safety-net plan in place for the future. If you'd like to learn about insurance products that could potentially offer reliable retirement income, please give us a call.
Because Biden's new plan is focused on tangible manufacturing and infrastructure jobs, it is likely to be embraced by America's labor union workforce. This demographic has lost footing in both participation and power over the past 40 years. Consider that in 1983, the nationwide union membership rate was 20.1% with 17.7 million union workers. As of 2020, the union membership rate had dropped to 10.8%. Presently, membership is almost evenly split between public and private sectors, with about 7.2 million workers in the former and 7.1 million in the latter. Private-sector industries that have high unionization rates include utilities (20.6%), transportation and warehousing (17.0%), and telecommunications (14.3%).3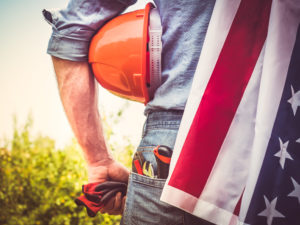 In early January of this year, hundreds of employees at Google and its parent company, Alphabet, launched a union — a rarity in the tech industry. Dubbed the "Alphabet Workers' Union," it will be run by workers and open to both full-time employees and independent contractors employed by the company. This is also new, as labor union collective bargaining agreements have traditionally excluded contractors.
Google employees are less interested in better pay and benefits and more focused on having a greater influence in company business decisions and operations. Some examples of their goals include input into the company's work in the defense sector, plans to develop a censored search engine for China and the company's handling of sexual misconduct claims.4
These moves are a clear reflection signaling the modern era — and the emerging power of today's American workers.
1 Jessica Lombardo. ForConstructionPros.com. Jan. 15, 2021. "Biden Announces Plan for Economic Recovery, Promises Infrastructure Next Month." https://www.forconstructionpros.com/infrastructure/news/21232282/biden-plan-for-economic-recovery-includes-infrastructure. Accessed Feb. 26, 2021.
2 David Floyd. Investopedia. Nov. 11, 2020. "NAFTA's Winners and Losers." https://www.investopedia.com/articles/economics/08/north-american-free-trade-agreement.asp. Accessed Feb. 8, 2021.
3 U.S. Bureau of Labor Statistics. Jan. 22, 2021. "Union Members Summary." https://www.bls.gov/news.release/union2.nr0.htm. Accessed Feb. 8, 2021.
4 Brian Fung. CNN. Jan. 4, 2021. "Google workers have formed the company's first-ever union." https://www.cnn.com/2021/01/04/tech/google-alphabet-union/index.html. Accessed Feb. 8, 2021.
We are an independent firm helping individuals create retirement strategies using a variety of insurance products to custom suit their needs and objectives. This material is intended to provide general information to help you understand basic retirement income strategies and should not be construed as financial advice.
The information contained in this material is believed to be reliable, but accuracy and completeness cannot be guaranteed; it is not intended to be used as the sole basis for financial decisions. If you are unable to access any of the news articles and sources through the links provided in this text, please contact us to request a copy of the desired reference.
Fill out the form below to be notified of future blog postings.
Ready to Take The Next Step?
For more information about any of the products and services listed here, schedule a meeting today or register to attend a seminar.